The Bodleian uncovers hidden inscriptions by mysterious medieval woman scribe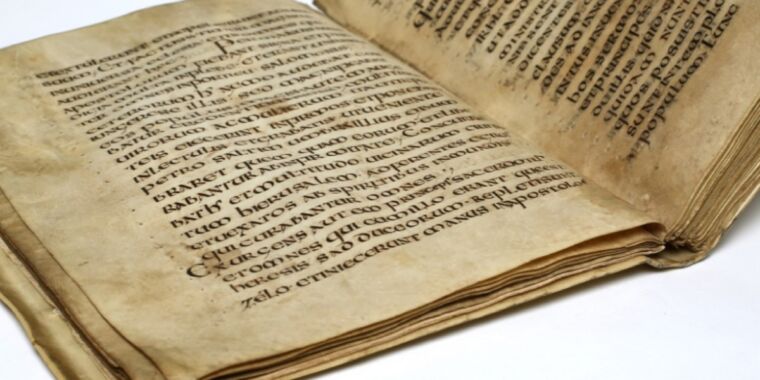 News Summary
And last year, scientists used the method to discover the first known Greek remnants of the astronomer Hipparchus' lost star catalog, hidden beneath Christian texts on medieval parchment.Lowe knew of these methods, but he was surprised to learn that nobody was working on recording the surface of objects.
This can reveal minute hints of pigment, as well as hidden drawings or writings underneath various layers of paint or ink.For instance, researchers have previously used the technique to reveal hidden text on four Dead Sea Scroll fragments previously believed to be blank.
So Hodgson turned to John Barrett, technical leader for a recent project at the Bodleian called ARCHiOx (Analyzing and Recording Cultural Heritage in Oxford), for help.Thanks to the project's prototype photometric stereo recording and 3D scanning systems, Barrett confirmed Hodgson's discovery.
So the Factum Foundation started working first with 3D scanning systems and then developed its own photometric stereo scanner, dubbed Selene, which the Bodleian is using for the first time.
This latest discovery bolsters a 1935 discovery of the letters "EADB" and "+E+" in the lower margin of another page in the same manuscript, both believed to be abbreviated forms of "Eadburh/Eadburg.
While he emphasizes that this is a very important activity, he thinks it has been done at the expense of the kind of work Barrett is doing at the Bodleian, looking at what he calls the "materiality" of those manuscripts: their surface qualities, bookbinding, typography, and the like.
Enlarge/ Bodleian MS. Selden Supra 30 open at pp. 1819.2 with Jessica Hodgson, a graduate student at the University of Leicester, was poring over a medieval manuscript in the Bodleian Libraries [+4495 chars]